Temporary non-locatable public space #1- Nullah Road Sitting-out Area 臨時無定空間#1-水渠道休憩處
Live broadcasting
2015
A radio broadcasting event at public space
About Temporarily non-locatable public space Series
A potential public space is selected as the geographical origin. A certain area of broadcast coverage by telecommunication network will be set up around the origin.A temporary unregistered live-streaming broadcast is accessible on-site
The artist will be staying away from the origin but some place with similarities of different aspect as the origin's. Several satellite points was pinned according to certain criteria. The floating broadcast station on the remote site aimed as to pass the experience of place and the locational certainty is superimposed across other places with mediated sound to compressed and prosthetic reality.
Broadcast info
![label](/img/tempnonpublic1/map.jpg)
Concept
Although not bound within a specific public space, the artist locates his work within a certain 'geographical origin'. Within its radius, a potential public space will be selected to ensure that it is within the broadcast coverage of the streaming media set up by the artist. Thus, locals and passersby who generally have access to this potential public area will also be able to access a temporary live-streaming on-site.
Using streaming media and a temporary sound station, the artist can maintain distance from the public space or choose to locate himself in another similar public space. Several 'satellite points' within the given radius will be pinned according to certain criteria.
This 'floating sound station' will remotely communicate the experience of one public space to another by means of mediated sound, as if one site is 'superimposed' with another to exemplify a compressed and prosthetic reality.
Streaming content: field recording at another "sitting-out area" on the Leisure and Cultural Services Department's list of (pre-recorded) live sound feed of the public space nearby the origin live interview with the people who are staying / passing by / using the facilities of the remote public space
雖然沒有被局限於某個公共空間,但藝術家選擇了一個地理源頭進行創作。在這個源頭的直徑範圍內,再挑選一個會被他設置的串流系統所覆蓋的公共空間。這樣,慣用及路經那個空間的途人便能在當地接觸到暫時性的串流廣播。 透過浮動聲音站及串流技術,藝術家可與該公共空間保持距離,而置身於另一個類似的地方。 他會跟據某些準則,在直徑範圍內而固定幾個衛星點。 這個「浮動聲音站」將透過介聲,遙距地將一個公共空間的體驗與另一個空間溝通,就像一個地點與另一個地方重叠互加,突顯壓縮及虛擬的真實。
串流內容 在其他康文署轄下的休憩處的田野錄音(預先錄好) 在源頭附近公共空間的現場聲音 在遙距地與途人(身處或途經公共空間或在享用其設施的人)的現場採訪 遙距地的現場報導
Live set up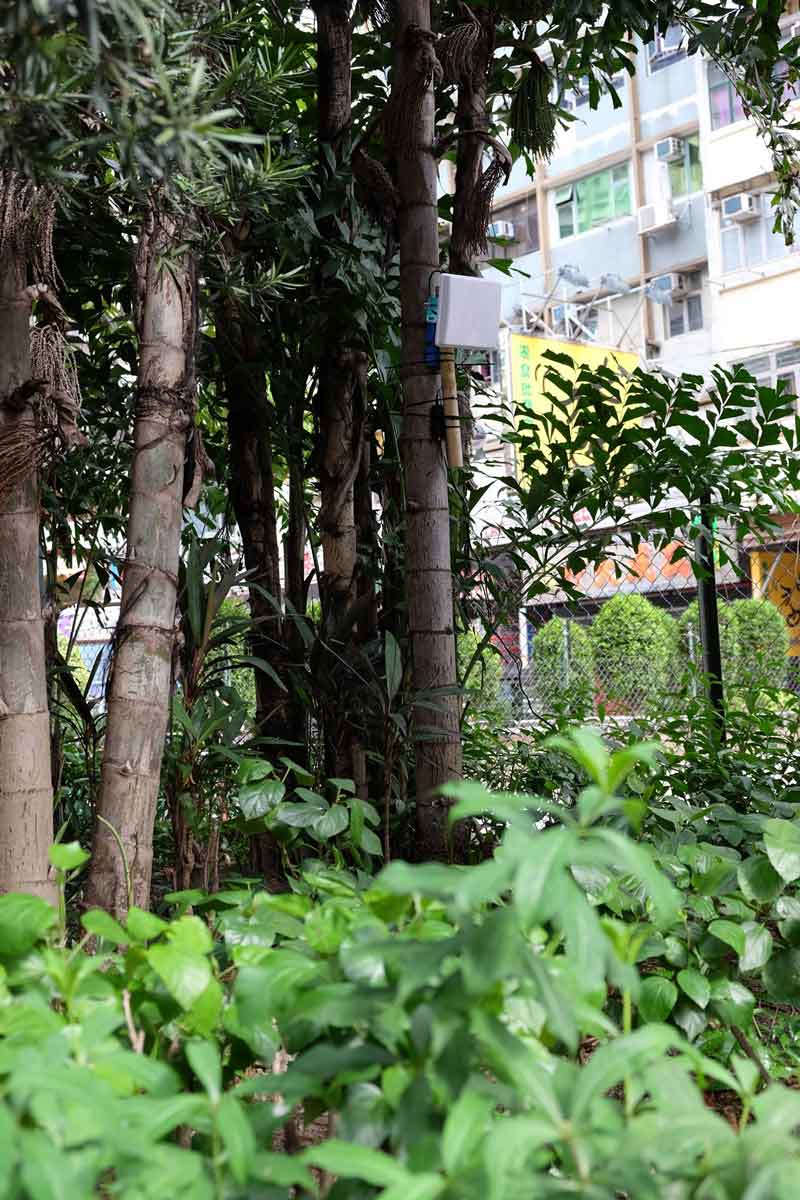 Art note
Perhaps, it can also help us create new ways of understanding why the lack of space does not necessarily mean a lack of creative opportunities." I can't agree more on this. No matter from what I experience from building my art space floating projects, nor being as one of the small potato in the Hong Kong Art field. I used to think "How to use the space better" is the most important question for the art people to think about. And the reality (ridiculous rent rate) forced us to merely think about "How to get a place to do something". When you get a place and started it up, the follow up question is "How to sustain the place…." .
some keywords: sound the interlink between public space live broadcast regional temporary audible exchange telelink streaming – – – – Nullah
The spatial narratives sound as the mechanics of information preference of an ideal public space utopia (XXXX) social habit of listening
… Presense in thrown, beyond its source, and even beyond the radiophonic transmission, and brought back by the telematic momentum of compressed, prosthetic reality, Like society itself, sound no longer explodes through its propagation, its performance, or its radiophonic broadcast, but implodes by being everywhere at once. Sound no longer needs to appear here, as a particular event with specific locatable details, but rather it disappears in its own system of production that may in the end complete its journey, from the here and now to virtual projection of future manifestations in which it is always already everywhere.
Brandon LaBelle (2006) Background Noise : Perspective on sound art , Bloomsbury Academic (ISBN:978-0-8264-1845-6)
I start with these: Some observation that I used to have in the acoustic design in new "public space" masking effect will be adopted . e.g. Fountain (Peninsula hotel, Kowloon Park..) . As a good barrier to mask the low hum and traffic sound in the city. Artificial natural sound scape 人造園林聲效 e.g. Tama park (near LegCo) , The new garden in some rehab centre. Usually very Lo-Fi and fake. but it does make interaction with some real bird and real insects sometimes. the background / foreground composition transurbanism:"Our experience of place and its locational certainty is superimposed across other places. one lives n more than one place." How the shape of the public space shaped our sense / imagination towards public space How is the other "public space" has been set up in Hong Kong? some rough research process
In order to keep the constrain that I am not allowed to be in the site of Nullah Road. I turned into researching the Nullah Road via the simlar place
literally, nor conceptually…
according to those documents online. I guess I won't go for a quantitative research.. but I want to visit most of them and take a few recordings for some basic material as the study.
considering Nullah Road Sitting area as the origin. Here is the 1 mile radius area : and then I spotted some possible public space around Nullah Road, within the 1-mile-radius area:
of course there are still many possible "public space" within that area
So I will take this place as my reference point for doing something about Nullah Road.