Lost and Found Anything Store 失物萬事屋
physical and digital
2020 onwards
Lost and Found Anything Store is a long term project. The artist take the initiative to uncover and focus on the abandoned lost objects in certain sites, which will be transformed into digital 3D models and re-imagined in a half-realistic, half-inferential free-association. In the midst of the unpredictable objects, a small history is written with these young relics
Project Website: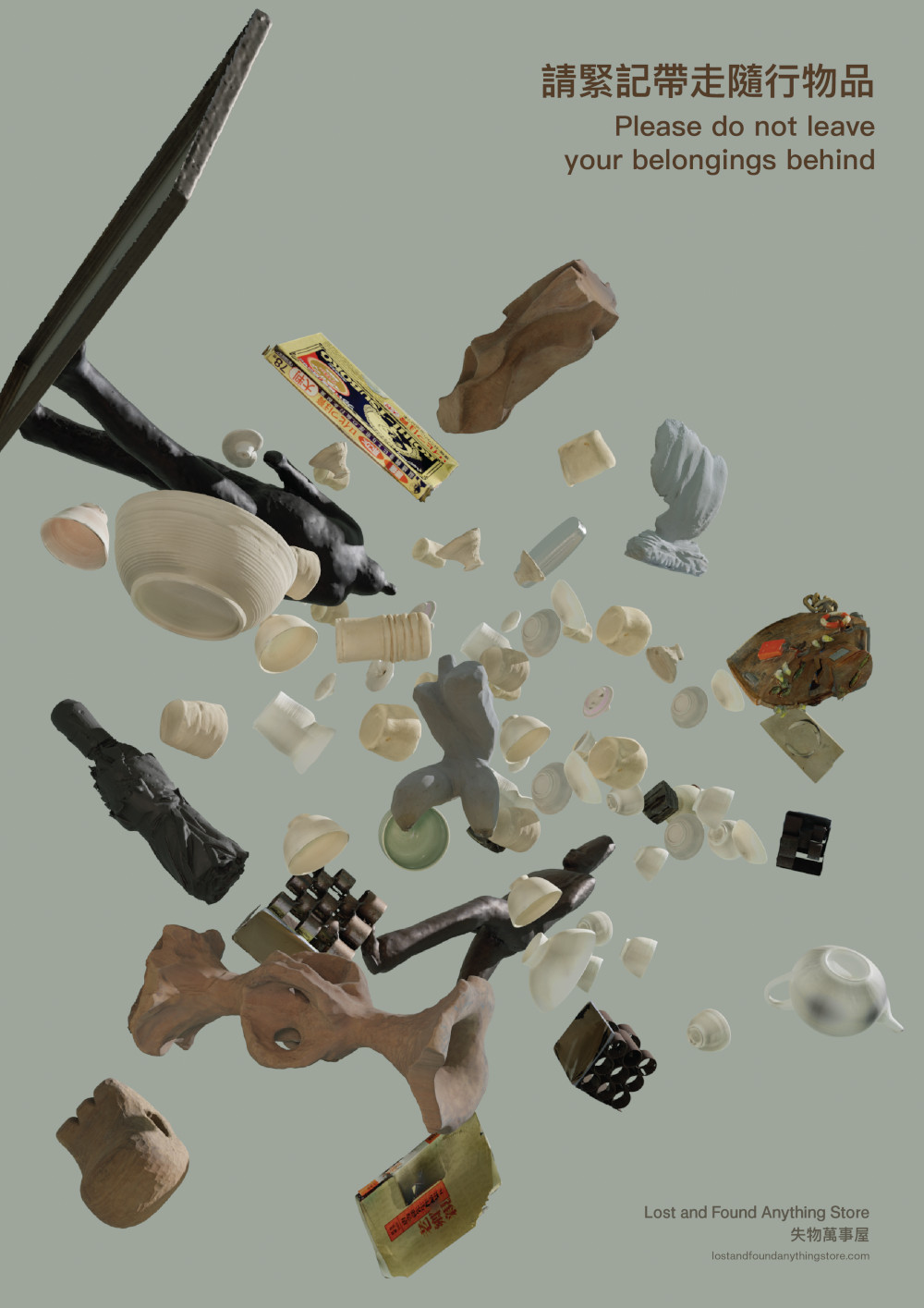 Unclaimed Item 無人認領的物件
It doesn't take much time to forget something, so I borrow the most recent "heritage" from no one.
The "Lost and found Anything Store" project aims to take these objects, which are "collected" from public places in a proper way, and the information attached to them, and use them as the departure points to create a series of small stories. I hope to temporarily transform these objects into creative materials, including making digital three-dimensional models of the objects, replicating, and virtual setting the scenes and stories of the lost objects. With a free association of half-realization, half-reasoning, I set up the game to review these undetectable objects for exploring the trace of some of the visitors in a more detached way, relatively. I can autonomously depict a part of the history of the places. This first place I tried out this is Hong Kong Visual Arts Centre in Hong Kong Park.
要遺忘一些東西不需要太花時間 ,我從無人那處借來給我考現最近的「遺跡」
「失物萬事屋」的創作計劃期望把這些在公共地方中,以正當途徑「收集」回來的物件,及其附隨的資訊量,作為推動作品生成的小故事。我期望把這些東西臨時轉化成創作素材,包括為物件製作數碼立體模型、複製、及虛擬設置失物出現的場境及故事。以半考現半推理的自由聯想,在沒法估計的物件群之中。以較純看及抽離的角度去探索某些遊客的足跡,說得夢幻一點,我可以自主地去描繪該地點的某段小歷史。第一個進行計劃的地方為香港視覺藝術中心。
Why 3D Scanning 為何是立體掃描
The story presented is a semi-fictional one. But the loss objects themselves are real. By scanning them digitally in 3D and printing them in 3D, I am more or less trying to look at them as "artifacts", using a technique that is often mentioned in the conservation trend (the Antiquities and Monuments Office already has a 3D scanning team), as an alternative way of writing history myself.
There is no point to care about the "absolute truth" of history, I care more about who is writing it, or what is interesting when we are writing it.
Although stereoscopic digitization can record objects in a three-dimensional space as close to their (current) original state as possible, it is of great interest to serious historians and leaves the most complete spatial information about objects that are about to disappear. The process of digitization is also very much dependent on the tool, the people who make the tool, and the people who use the tool. The process and results of scanning also hides a second, more insidious layer of technological history. 3d scanning, before it became increasingly popular, interested me as a media art seeker in understanding the plasticity of this technology and in smoothing out the mythical products of this technology. In the past, when learning to use 3D scanners, there were always many "accidents" that resulted in rendered models that deviated from the original object, mostly showing the difference between computer vision and human vision. Rather than rendering an object in its original form, I prefer to present other plasticities of digital representation, such as size scale, shader, viewable angles, etc. Each set of works is still a realistic representation of the original object, and I am not sure if this "accident" will continue in the future.
Each group of works is still based on a real object, and I make it a rule to include the original object in the group while extending the association of the object. Through the accompanying contrasts of production and material (physically), I hope that the lost objects remain lost, preferably to be claimed by someone during the exhibition.
呈現的是一段半虛構的故事。但物件本身是真實的,我以數碼立體掃描物件,及3d打印,或多或少是想以「文物」的角度去看待,用上文物保育的潮流中常常提及的技術(古物古蹟辦事處已有一個三維掃描小組),展開自己書寫歷史的另一種方法。
在我而言,看待歷史並不在乎「絕對真實」,我較在意是誰在書寫歷史,或書寫歷史的可玩之處。
雖說立體數描可以把物件以(現時)最接近原狀的三維空間記錄下來,那對認真的史學研究員有重大意義,也是對快將消失的物件留下最完整的空間資訊。數碼化的過程其實也十分取決於工具、製做工具的人及使用工具的人。掃描的方法過程和成果也隱藏著第二層較隱匿的科技史。3d掃描日漸普及之前,作為探究媒體藝術的人,我更有興趣去了解這個科技的可塑之處,也在想整平一下神話般的科技產物。在以往學用3d掃描器的時侯,總是有很多「意外」出現,render出與原物件有偏差的模型,這些意外多是顯示出電腦視覺與人類視覺的不同,我不肯定這個「意外」在往後的日子會否繼續出現。比起以數碼方式直接呈現物件原有的姿態,我更傾向呈現數碼化的其他可塑性,如大小比例、shader,可視角度等等。
而每組作品仍然是已真實的物件作為出發點,我在不停地延伸該物件的聯想之時,亦規定自己要將原物件都放進作品組去。透過各種伴隨著的生產和材質(物理上)的反差,我希望那些失物仍然是失物,最好是有人在展期來認領。
Collection #016A Almost a utah teapot
Origin of creation 創作緣由
Among the visitors who come to the HKVAC every day (in the past, at least before it was always closed), I believe there are always "careless" visitors who left their belongings somewhere and were then taken to the lost and found at the information desk by other visitors or staff, or were so anxious that they went to the center's management office to report the loss. There seems to be a small history about the art centre that is solid and inconspicuous. I was curious about these objects, even though they were commonplace and irrelevant, and I always thought of how scared, helpless, still had a glimmer of hope, or completely forgotten the circumstances of something by someone who had passed through the neighborhood.
Collection 1 : Hong Kong Visual Arts Centre (2020 fall - 2021 Summer) | 合集(一) 香港視覺藝術中心 (2020冬-2021夏)
Exhibition View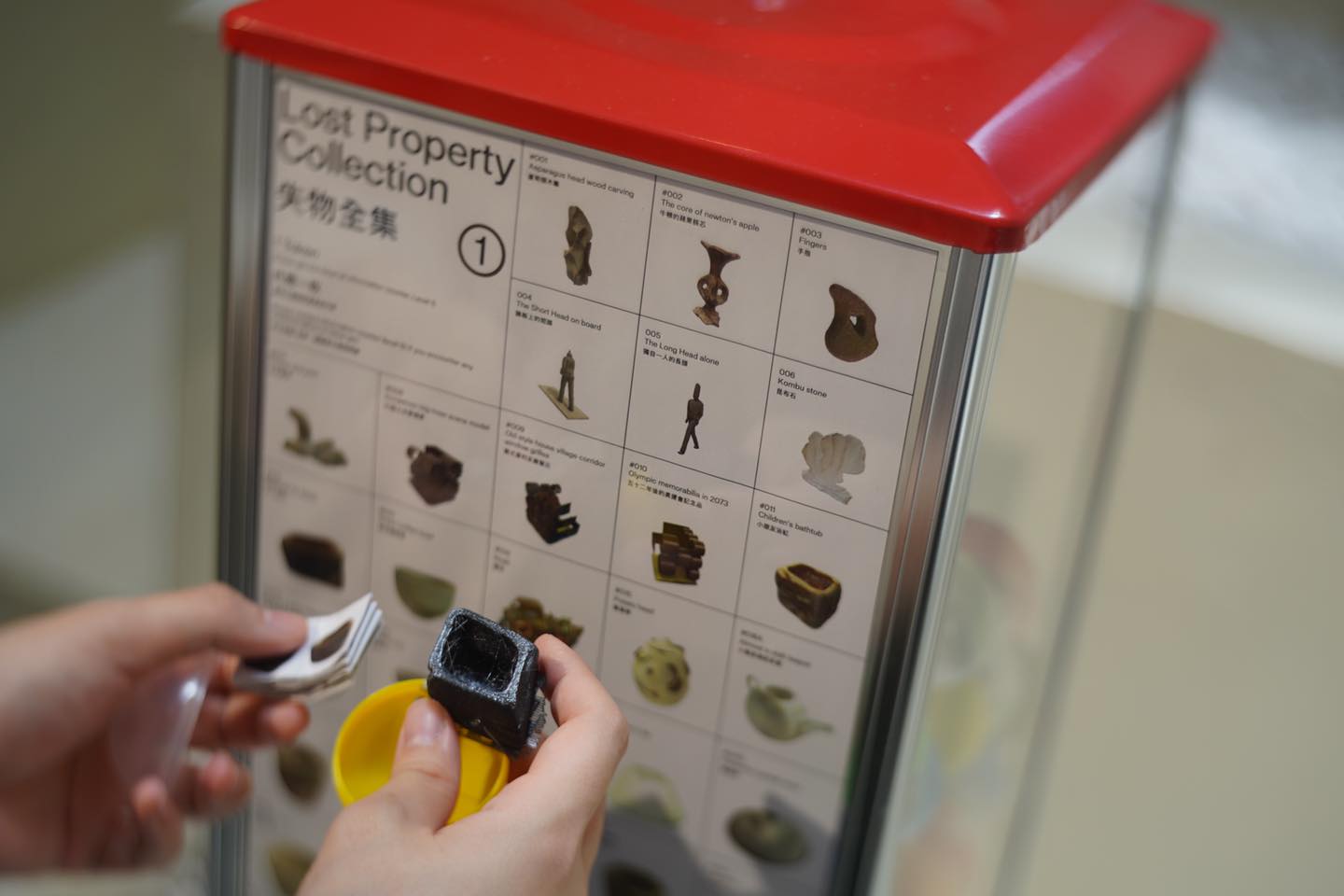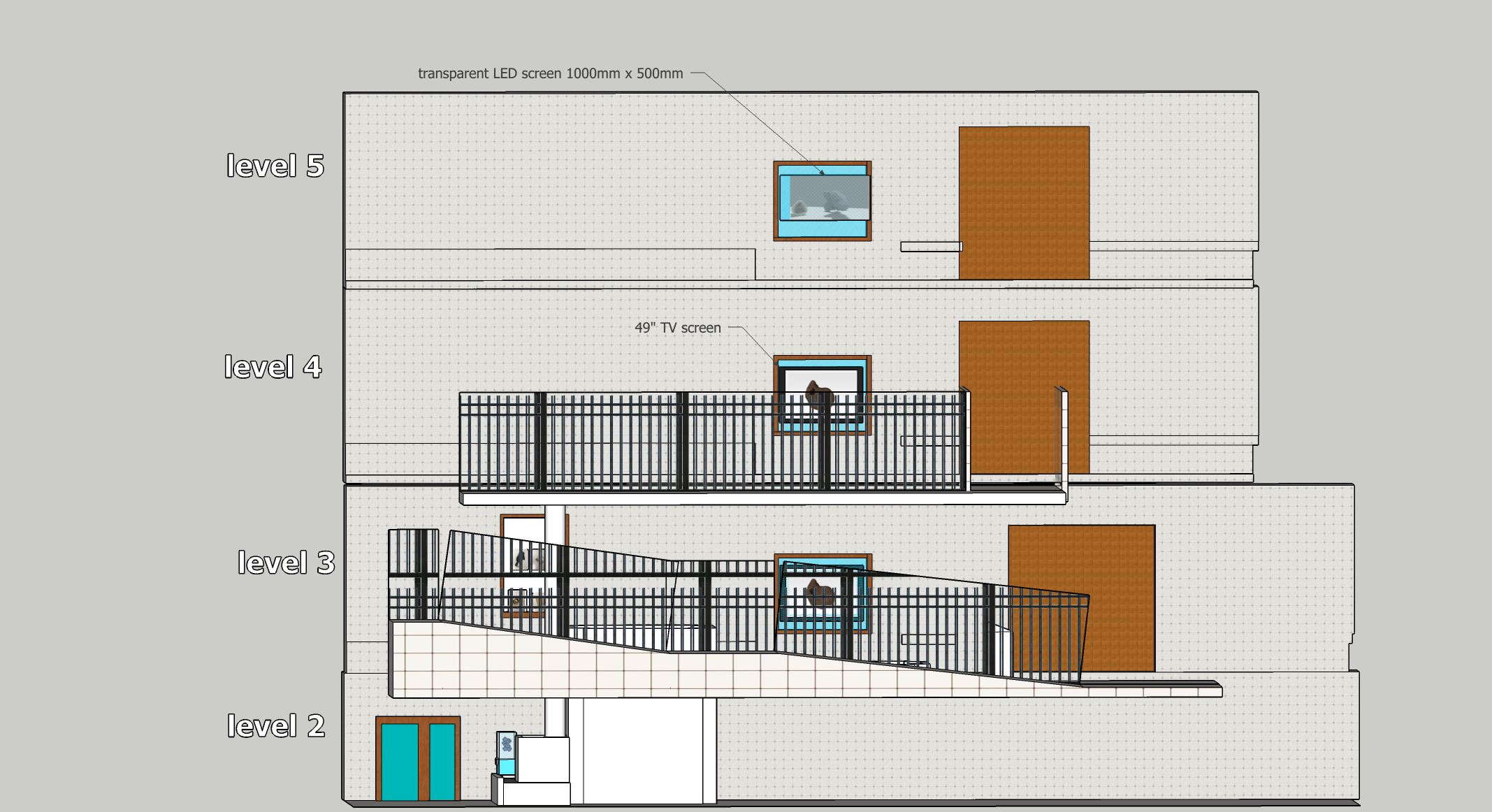 Video in window display (Level 3) 三樓窗口電視
Video in window display (Level 4) 四樓窗口電視
Video in window display (Level 5) 五樓窗口電視
view from 4/F
view from 3/F
Acknowledgment
Assisting artist :
MAN Mei-to
All-round Technician : Kel LOK Man-Chung
3D scan operator : Atiq, Hafiz Muhammad
Animator : CHEUNG Chi-chuen
Writer : Kel LOK Man-chung , George HUANG
Designer : Vigour Li
Web Development : Cyrus Chau ,
Console Technology
Article / Review
---
Collection 2 : Tai Kwun Artists' Studio Programme (2022) | 合集(二) 大館藝術家工作室駐場計劃 (2022)
Work in progress
---
making-of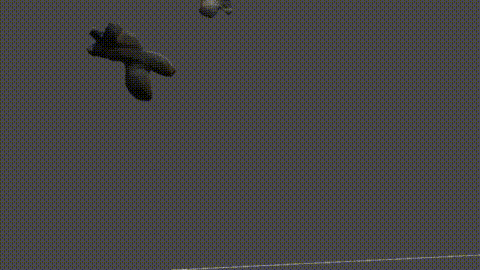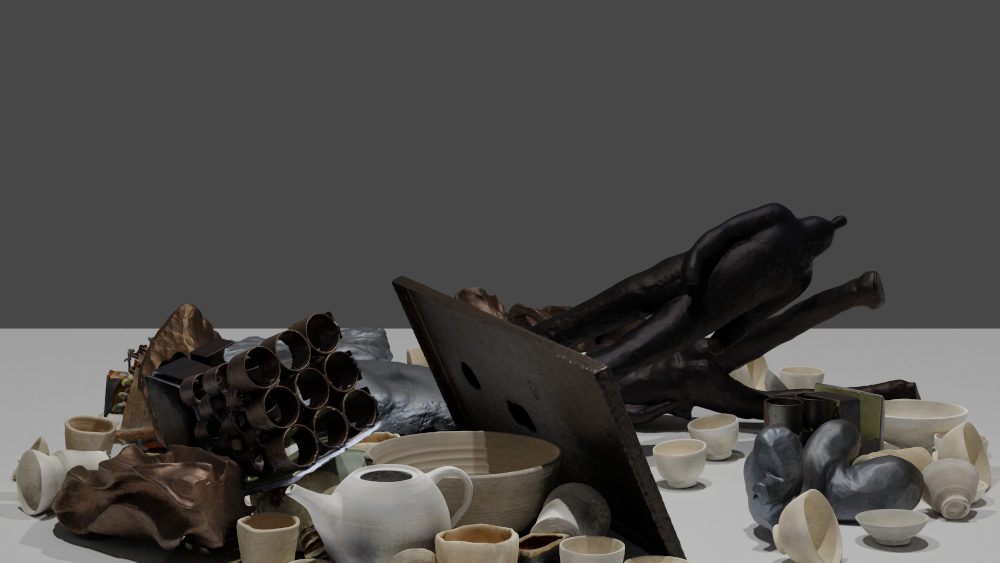 3D model viewer